July 2021 – Eastern Arrernte album finished, recorded at CAAMA Music with in house engineer Dae Dae, loads of fun. Gurun album mastered, ultra cool quicky desert surf. 40 years of CAAMA compilation mastered, so many great songs, new ones I have not heard before. Albert Street EP recording, was super sweet too, classy pop indie classics straight up…AND opening up Basso Island Studio soon for recording!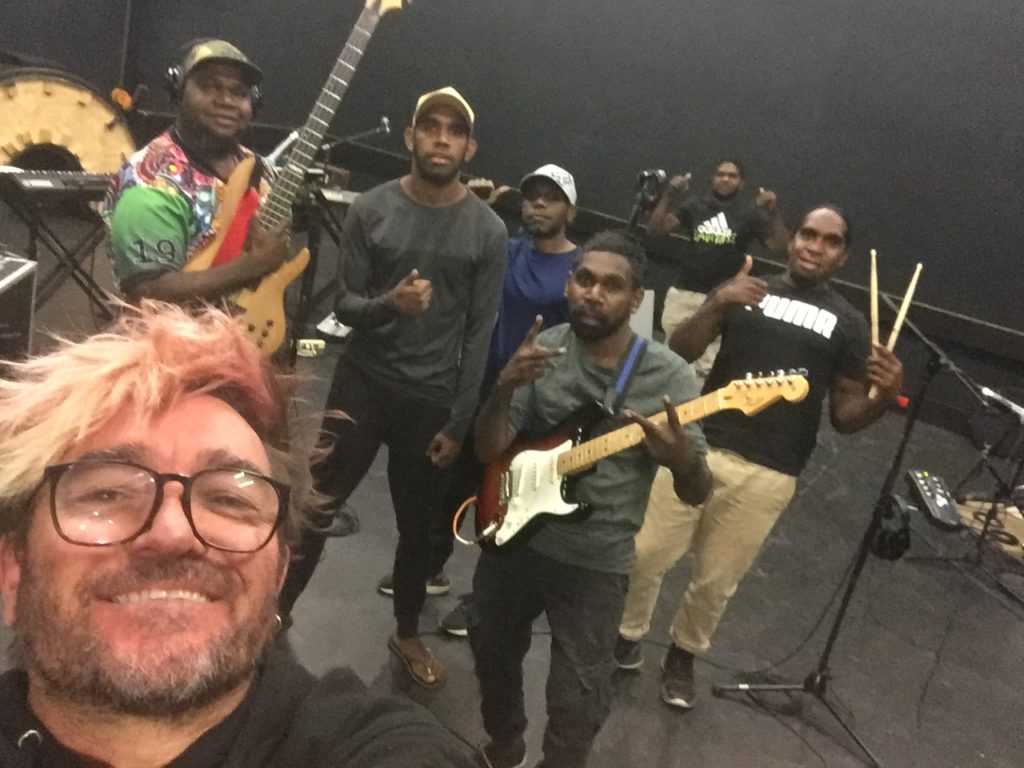 In the CAAMA Music studio with Eastern Arrernte Band.
June 2020 – Finished the Stuart Joel Nugget album. So great to have worked with Stuart, Warren, Laurie, Dae Dae and Malcom. Very happy indeed. Such a blast to have Kathy Naunton from dbMastering, who has worked with artists including Midnight Oil, Paul Kelly, Paul Mac, Hoodoo Gurus, Falling Joys and loads of classic Australian bands add the final mastering process….
2020 – So proud to be part winner for Best Sound along with Pete Best (BestFX) at the American Golden Picture International Film Festival, Florida USA.
'Supported by Screen Territory' – 2019 – Jeremy attended the Bogong Centre for Sound Culture Winter Masterclass 2019 – an extreme environment specific masterclass in recording techniques and tools needed for the field. Facilitators were Douglas Quinn, American sound artist and field recordist. His credits include Jurassic Park III and Werner Herzog's Encounters at the End of the World. Philip Samartzis is an Associate Professor and studio coordinator of Sound within the School of Art – RMIT University in Melbourne. Philip is the recipient of two Australian Antarctic Division Arts Fellowships (2009 and 2015), which he used to document the effects of extreme climate and weather events in Eastern Antarctica, and Macquarie Island.